Restore Medical Fitness (RMF)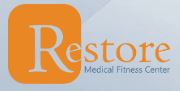 Website:     https://www.restoremedicalfitness.com/
Director:     Peter Cummings
Office:         716.906.2102
"At Restore, we treat exercise, nutrition and lifestyle as medicine. We believe that exercise is not only medicine; it is possibly the most important medicine individuals can take on a daily basis. We believe there is an appropriate dose of exercise of which everyone is capable. Like any medicine, individuals often need guidance in finding the correct dose and the correct progression of that dose. For many individuals, this dosing should include the involvement of educated exercise professionals to monitor the body's response to the exercise and guide the progression.
Restore provides truly personalized nutritional, exercise, and health education, guidance, accountability, and motivation, in coordination with your health care providers and offers the resources necessary to safely obtain meaningful improvements in your quality of life goals.
By partnering with patients and their physicians using the Exercise Is Medicine approach, we have seen hundreds of patients lose weight, reduce medications, reverse chronic diseases, improve overall quality of life and restore their health. We continue improve and work hard, empowering patients to succeed in achieving their long-term health and wellness goals. Join us to experience the medical fitness difference.
Cardiology

Website:         www.BuffaloMedicalGroup.com
Cardiologist: JoAnne L. Cobler, MD, FACC, FACP
Office:             716.630.1000
"I am a clinical cardiologist . I diagnose , treat and prevent cardiovascular disease. I am passionate about prevention and practice what I preach . I also have a special interest in women and heart disease."